Connecting your Mouth with Your Total Health
Dr. Liao is a general dentist with over 40 years' experience. His extensive "Dr. Felix", as many of his patients and dentist-followers know him, earned his DDS from Case University of Dental Medicine, and today holds Masterships with both the Academy of General Dentistry and the International Academy of Biological Dentistry and Medicine (IABDM). He is board certified by the American Board of General Dentistry, and a Diplomate in America Sleep & Breathing Academy. Of all his accomplishments, Dr. Felix is most proud of having put the missing mouth back on the healthcare map with his 4 Amazon best-sellers. His books established him as a thought leader in healthcare innovation and as an expert Airway-Centered Mouth Doctor (AMD).
Dr. Felix coined the term "Impaired Mouth Syndrome" in 2017 to highlight the mouth structure's pivotal role in many medical, dental, and mood symptoms. He has shown that correcting impaired mouth can breakthrough many problems resistant to standard treatment. He champions cross-training for healthcare professionals to integrate mind, body, and mouth. Dr. Felix sees patients 2 days a week and spend the rest of his time serving as Director of AMD Training & Mentoring to educate dentists interested in becoming AMDs.
Dr. Felix is the author of five highly regarded books on mouth/body health – books he recommends that all new and prospective patients read: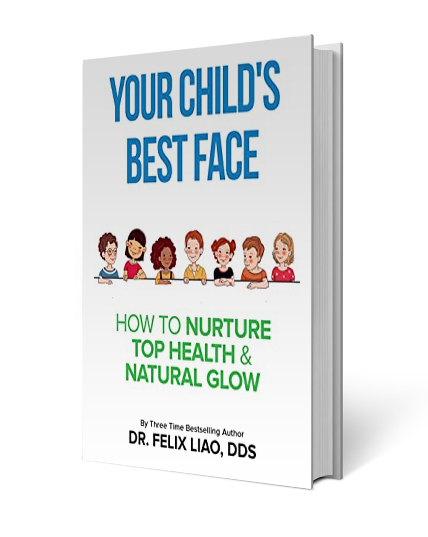 Your Child's Best Face: How To Nurture Top Health & Natural Glow
Do you have kids with crowded teeth, tilted head, poor posture, chapped lips, frequent colds and cavities?
Will your child grow up with top health and natural facial glow? Will you have huge healthcare bills, or next to none?
A well-developed face empowers health and performance. This short book is a concise guide for parents to bring out your child's own Best Face. It connects your child's mouth with airway sleep, learning, posture, and face.
Six-Foot Tiger, Three-Foot Cage
This first book in the series shows how your mouth is critical infrastructure supporting sleep and supplying oxygen – the most essential nutrient your body needs. When the jaws are underdeveloped, so is the airway. Without enough room, the tongue becomes like a six-foot tiger being contained in a three-foot cage.
An impaired mouth can still eat, drink, talk, and smile, but its crowded teeth in narrow and misaligned jaws interfere with alignment, breathing, circulation, digestion, energy, and sleep (ABCDES). This contributes to common health troubles, such as snoring, sleep apnea, teeth grinding, aches and pains, adrenal exhaustion, chronic fatigue, and one dental problem after another. But with the help of an Airway Mouth Doctor, an impaired mouth can be transformed into a holistic mouth – one that's structurally developed to support whole body health through ABCDES.
Through illuminating case histories and clear, accessible discussions of the science that supports this oral/systemic approach, this book will show you exactly how you can change your mouth from a health blocker to a health builder.
Early Sirens
Early Sirens is the first book ever to offer critical health warning signs long before sleep apnea so you can take steps to head off a future of CPAP and sleep apnea's many complications: heart problems, Alzheimer's, acid reflux, chronic pain, fatigue, stroke, high blood pressure, and more.
Here, Dr. Liao connects the dots between snoring, teeth grinding, jaw clicking, upper body pain, chronic fatigue, root canals, and one dental trouble after another, showing how poor sleep results from a choked airway due to an impaired mouth structure.
Rich with real-life case histories and scientific evidence, Early Sirens shows you exactly how and why these relationships occur. Understanding the early warning signs of sleep apnea and its consequences, you'll learn more steps you can take to address them now, before they become big – and difficult and expensive – dental and medical problems.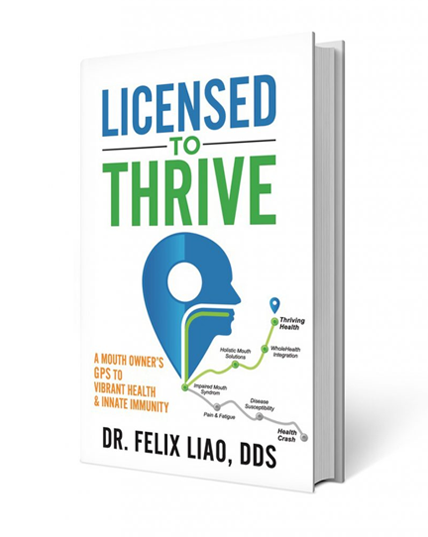 Licensed to Thrive
Licensed to Thrive isn't your usual diet book. It's a primer on HOW to eat to build thriving health naturally. It's meant to support your own efforts at self-care in ways that can amplify treatment, enhance recovery, and build health.
Where the first two books in the series focus on mouth STRUCTURE, Licensed to Thrive focuses on mouth STYLE as a help or hindrance to good health.
Yes, just as you have a lifestyle, you also have a "mouth style" – how you use your mouth to eat, drink, and relate to people and Planet Earth. What you eat is only a part of it. It's also how fast you eat, how often, in what mood, and at what time. Most importantly, it includes knowing the difference between eating "too much" and stopping at "just right" so you can fully enjoy life, not suffer in illness.
You, as the owner/operator of your mouth are the one to take charge. This book shows you how.
Relaunch Your Vitality
Bothered and nagged by persistent pain and chronic fatigue day after day? This short book loaded with pictures shows how your mouth may be a gravely overlooked source.
Discover if you have a structurally impaired mouth with crowded teeth in bad bite, teeth grinding, and clicking joints and deficient jaws. And learn how an Impaired Mouth can choke your airway, break your teeth, and create pain in the jaw, neck and back, anxiety, depression, waking up tired, and more.
The clincher: Bedrest cannot fix an Impaired Mouth, nor typical dental care. The key to free you from the prison of pain and fatigue lie in your mouth structure. Yet in 2022, it is not on the radar of nearly all doctors and dentists.
You, too, refill your empty tank and enjoy feeling younger by attending to your Impaired Mouth's contributions to many medical, dental, and mood symptoms. Start reading this short book now to relaunch your vitality.